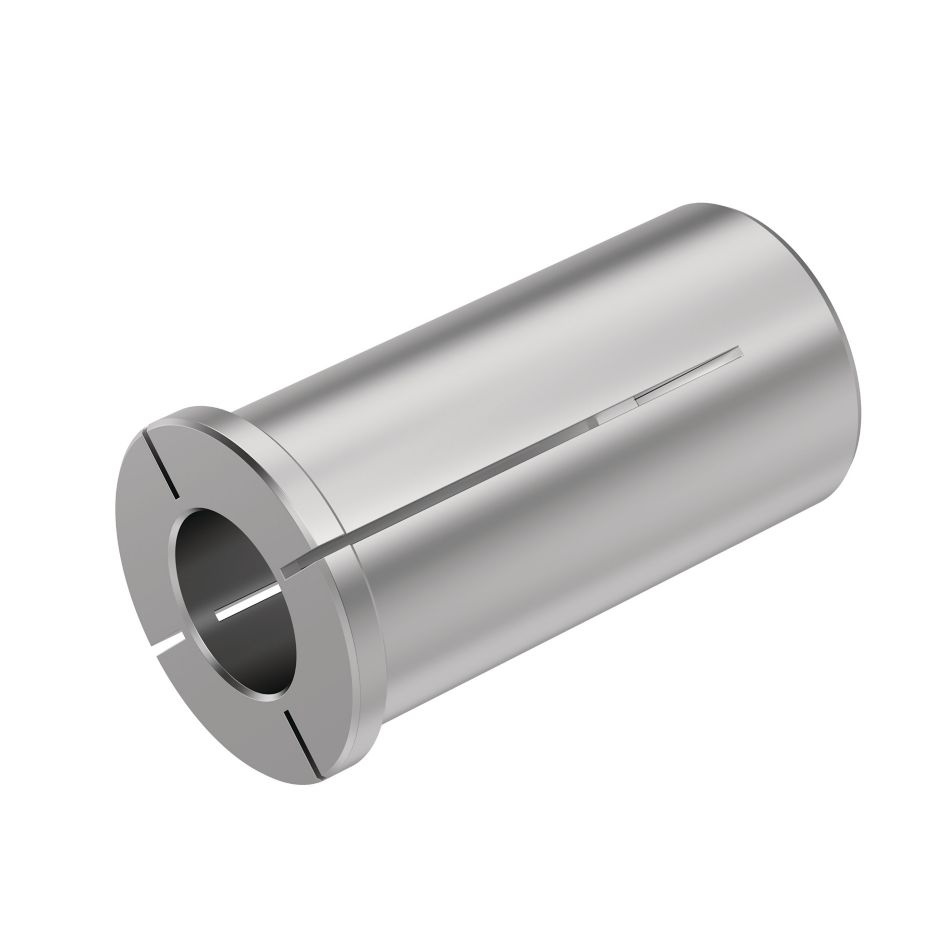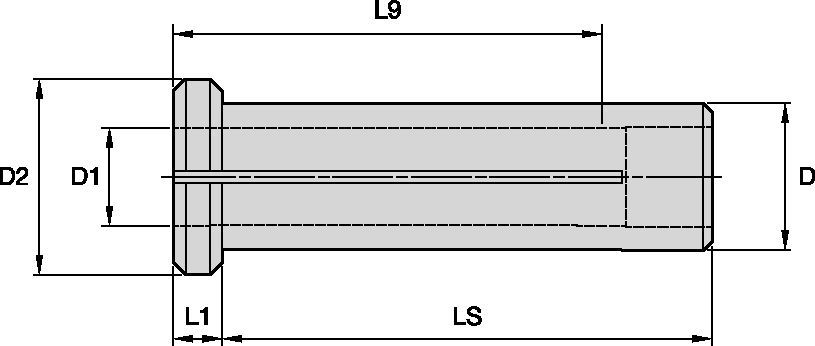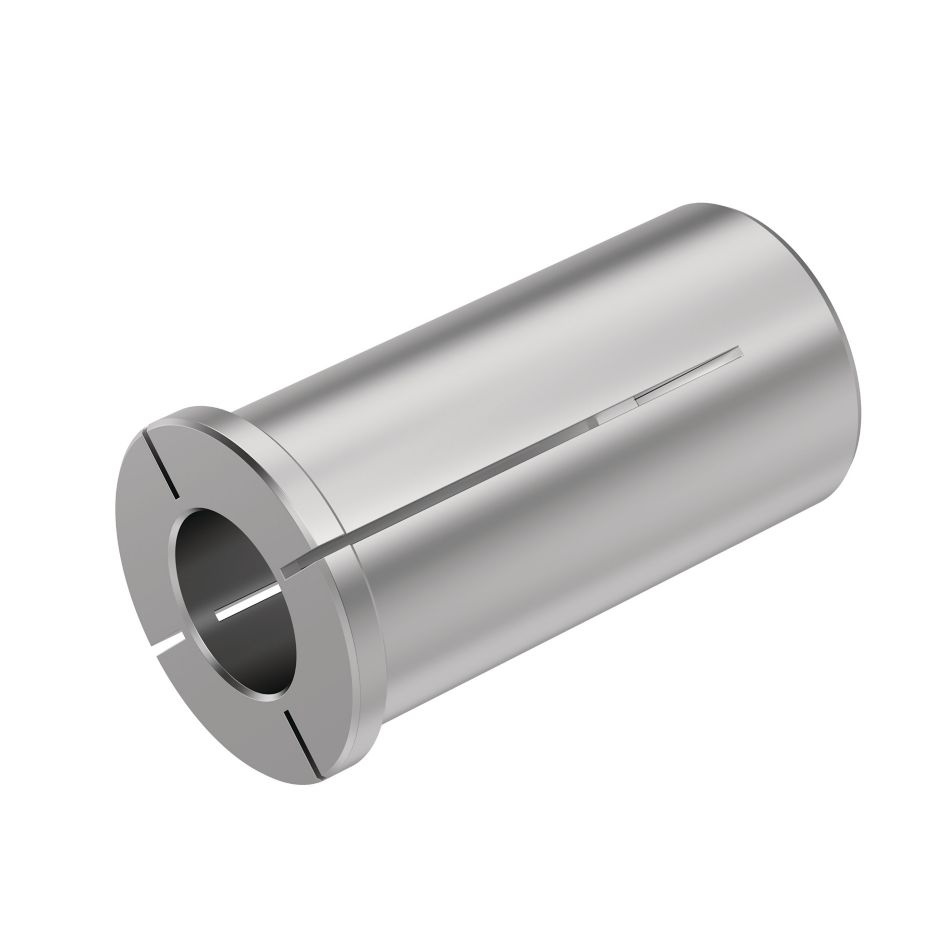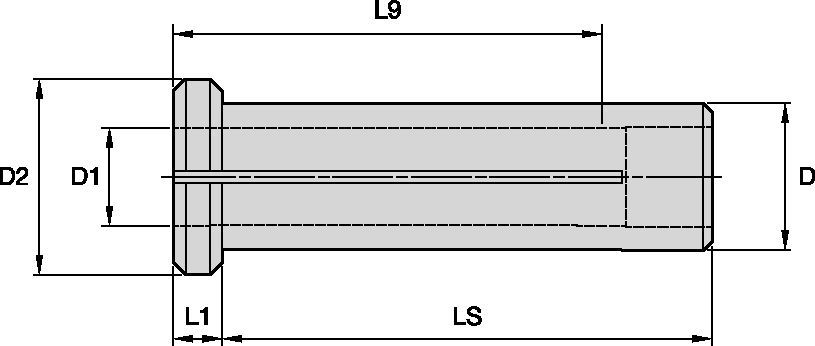 HC 1/2 - HC 1 1/4 • Hydraulic Sleeves • Inch with Inch Bores
Reducer Sleeves
Features and benefits
One-piece design with slot configuration to seal coolant.


Cutting tool must be cylindrical and have a through hole when using coolant.


Sleeve must be inserted completely into the hydraulic chuck until shoulder mates against the hydraulic chuck front face.


Cutting tools must be in full contact with the sleeve bore length (L9).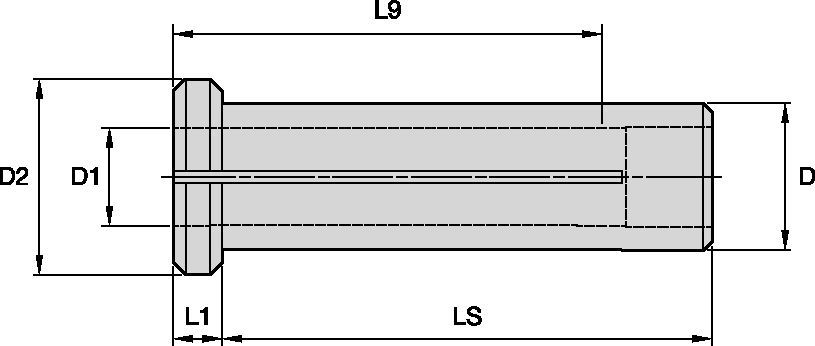 other
Hydraulic Chuck Sleeves

(

26

)
No filters matching ""
Change the visible columns with any of the parameters listed below. A maximum of 7 columns can be displayed.
Displaying
1-

10
of
26
results
| SAP Material Number | ISO Catalog Number | ANSI Catalog Number | First Choice | [D2] Body Diameter 1 Workpiece Side | [D2] Body Diameter 1 Workpiece Side | [L1] Gage Length 1 | [L1] Gage Length 1 | [L9] Clamping Length | [L9] Clamping Length | [LS] Shank Length | [LS] Shank Length | [D1] Adapter / Shank / Bore Diameter | [D1] Adapter / Shank / Bore Diameter | [D] Adapter / Shank / Bore Diameter | [D] Adapter / Shank / Bore Diameter | |
| --- | --- | --- | --- | --- | --- | --- | --- | --- | --- | --- | --- | --- | --- | --- | --- | --- |
| 1093527 | 12HC0500 | 12HC0500 | | 36.0000 | 1.417 | 4.0000 | .1575 | 45.0000 | 1.772 | 60.0 | 2.362 | 12.7000 | .5000 | 31.75 | 1.25 | |
| 1093528 | 12HC0562 | 12HC0562 | | 36.0000 | 1.417 | 4.0000 | .1575 | 46.0000 | 1.811 | 60.0 | 2.362 | 14.2880 | .5625 | 31.75 | 1.25 | |
| 1093529 | 12HC0625 | 12HC0625 | | 36.0000 | 1.417 | 4.0000 | .1575 | 46.0000 | 1.811 | 60.0 | 2.362 | 15.8750 | .6250 | 31.75 | 1.25 | |
| 1093530 | 12HC0688 | 12HC0688 | | 36.0000 | 1.417 | 4.0000 | .1575 | 48.0000 | 1.890 | 60.0 | 2.362 | 17.4630 | .6875 | 31.75 | 1.25 | |
| 1093533 | 12HC0750 | 12HC0750 | | 36.0000 | 1.417 | 4.0000 | .1575 | 50.0000 | 1.969 | 60.0 | 2.362 | 19.0500 | .7500 | 31.75 | 1.25 | |
| 2248952 | 12HC0812 | 12HC0812 | | 36.0000 | 1.417 | 4.0000 | .1575 | 50.0000 | 1.969 | 60.0 | 2.362 | 20.6370 | .8125 | 31.75 | 1.25 | |
| 1093535 | 12HC0875 | 12HC0875 | | 36.0000 | 1.417 | 4.0000 | .1575 | 51.0000 | 2.008 | 60.0 | 2.362 | 22.2250 | .8750 | 31.75 | 1.25 | |
| 1093536 | 12HC1000 | 12HC1000 | | 36.0000 | 1.417 | 4.0000 | .1575 | 54.7000 | 2.150 | 60.0 | 2.362 | 25.4000 | 1.000 | 31.75 | 1.25 | |
| 5998754 | 12HCSFC0500 | 12HCSFC0500 | | 36.0000 | 1.417 | 2.5000 | .0980 | 41.0000 | 1.614 | 70.0 | 2.756 | 12.7000 | .5000 | 31.75 | 1.25 | |
| 5998755 | 12HCSFC0625 | 12HCSFC0625 | | 36.0000 | 1.417 | 2.5000 | .0980 | 44.0000 | 1.732 | 70.0 | 2.756 | 15.8750 | .6250 | 31.75 | 1.25 | |
| 5998756 | 12HCSFC0750 | 12HCSFC0750 | | 36.0000 | 1.417 | 2.5000 | .0980 | 46.0000 | 1.811 | 70.0 | 2.756 | 19.0500 | .7500 | 31.75 | 1.25 | |
| 5998757 | 12HCSFC1000 | 12HCSFC1000 | | 36.0000 | 1.417 | 2.5000 | .0980 | 47.0000 | 1.850 | 70.0 | 2.756 | 25.4000 | 1.000 | 31.75 | 1.25 | |
| 1937870 | 75HC0125 | 75HC0125 | | 24.0000 | .9450 | 4.0000 | .1575 | 28.0000 | 1.102 | 50.0 | 1.968 | 3.1750 | .1250 | 19.05 | .75 | |
| 1093496 | 75HC0188 | 75HC0188 | | 24.0000 | .9450 | 4.0000 | .1575 | 28.5000 | 1.122 | 50.0 | 1.968 | 4.7630 | .1875 | 19.05 | .75 | |
| 1093497 | 75HC0250 | 75HC0250 | | 24.0000 | .9450 | 4.0000 | .1575 | 38.1000 | 1.500 | 50.0 | 1.968 | 6.3500 | .2500 | 19.05 | .75 | |
| 1093498 | 75HC0312 | 75HC0312 | | 24.0000 | .9450 | 4.0000 | .1575 | 41.2500 | 1.624 | 50.0 | 1.968 | 7.9380 | .3125 | 19.05 | .75 | |
| 1093500 | 75HC0375 | 75HC0375 | | 24.0000 | .9450 | 4.0000 | .1575 | 41.2500 | 1.624 | 50.0 | 1.968 | 9.5250 | .3750 | 19.05 | .75 | |
| 1093501 | 75HC0438 | 75HC0438 | | 24.0000 | .9450 | 4.0000 | .1575 | 41.2500 | 1.624 | 50.0 | 1.968 | 11.1130 | .4375 | 19.05 | .75 | |
| 1093268 | 75HC0500 | 75HC0500 | | 24.0000 | .9450 | 4.0000 | .1575 | 46.0000 | 1.811 | 50.0 | 1.968 | 12.7000 | .5000 | 19.05 | .75 | |
| 1093269 | 75HC0562 | 75HC0562 | | 24.0000 | .9450 | 4.0000 | .1575 | 46.0000 | 1.811 | 50.0 | 1.968 | 14.2880 | .5625 | 19.05 | .75 | |
| 1093270 | 75HC0625 | 75HC0625 | | 24.0000 | .9450 | 4.0000 | .1575 | 46.0000 | 1.811 | 50.0 | 1.968 | 15.8750 | .6250 | 19.05 | .75 | |
| 2248951 | 50HC0125 | 50HC0125 | | 16.0000 | .6299 | 4.0000 | .1575 | 29.0000 | 1.141 | 40.0 | 1.574 | 3.1750 | .1250 | 12.7 | .5 | |
| 1606046 | 50HC0188 | 50HC0188 | | 16.0000 | .6299 | 4.0000 | .1575 | 29.0000 | 1.141 | 40.0 | 1.574 | 4.7630 | .1875 | 12.7 | .5 | |
| 1606047 | 50HC0250 | 50HC0250 | | 16.0000 | .6299 | 4.0000 | .1575 | 36.0000 | 1.417 | 40.0 | 1.574 | 6.3500 | .2500 | 12.7 | .5 | |
| 1606048 | 50HC0312 | 50HC0312 | | 16.0000 | .6299 | 4.0000 | .1575 | 37.0000 | 1.456 | 40.0 | 1.574 | 7.9380 | .3125 | 12.7 | .5 | |
| 1606049 | 50HC0375 | 50HC0375 | | 16.0000 | .6299 | 4.0000 | .1575 | 40.0000 | 1.574 | 40.0 | 1.574 | 9.5250 | .3750 | 12.7 | .5 | |
Replacement
This item is not available
Replacement Product
This item may be available through a distributor