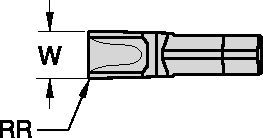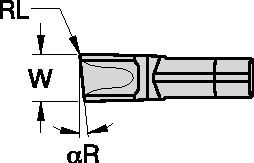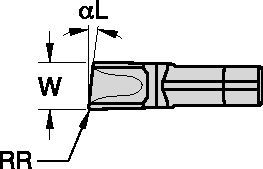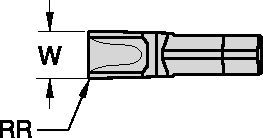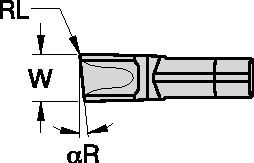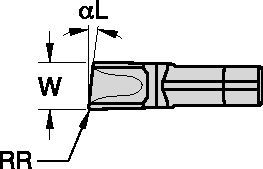 ProGroove™ PGU Inserts
Plaquitas de ranurado y tronzado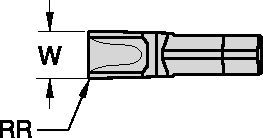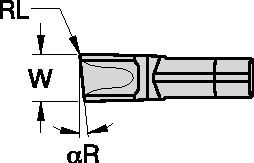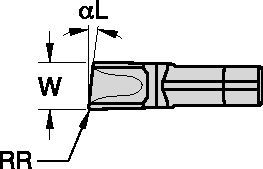 keyFilters
P0

Low-Carbon Steels, Long Chipping

C < .25%; <125 HB; <530 N/mm^2 UTS

(

1

)

P1

Low-Carbon Steels, Short Chipping

C < .25%; <125 HB; <530 N/mm^2 UTS

(

1

)

P2

Medium and High Carbon Steels

C < .25%; <220 HB; <25 HRC; >530 N/mm^2 UTS

(

1

)

P3

Alloy Steels & Tool Steels

C > .25%; <330 HB; <35 HRC; 600-850 N/mm^2 UTS

(

1

)

P4

Alloy Steels & Tool Steels

C > .25%; 350-420 HB; 35-43 HRC; 850-1400 N/mm^2 UTS

(

1

)

P5

Ferritic, Martensitic, and PH Stainless Steels

<330 HB; <35 HRC; 600-900 N/mm^2 UTS

(

1

)

P6

High Strength Ferritic, Martensitic, and PH Stainless Steels

350-450 HB; 35-43 HRC; 900-2400 N/mm^2 UTS

(

1

)

M1

Austenitic Stainless Steel

130-200 HB; <600 N/mm^2 UTS

(

1

)

M2

High Strength Austenitic Stainless and Cast Stainless Steels

150-230 HB; <25 HRC; >600 N/mm^2 UTS

(

1

)

M3

Duplex Stainless Steel

135-275 HB; <30 HRC; 500-1200 N/mm^2 UTS

(

1

)

K1

Gray Cast Iron

120-290 HB; <32 HRC; 125-500 N/mm^2 UTS

(

1

)

K2

Low and Medium Strength CGI and Ductile Irons

130-260 HB; <28 HRC; <600 N/mm^2 UTS

(

1

)

K3

High Strength Ductile and Austempered Ductile Iron

180-350 HB; <43 HRC; >600 N/mm^2 UTS

(

1

)

N

Non-Ferrous Materials

(

1

)

N2

Low-Silicon Aluminum Alloys and Magnesium Alloys

Si <12.2%

(

1

)

N3

High-Silicon Aluminum Alloys

Si >12.2%

(

1

)

N4

Copper, Brass, Zinc-based on machinability index range of 70-100

(

1

)

N5

Nylon, Plastics, Rubbers, Phenolics, Resins, Fiberglass

(

1

)

N6

Carbon, Graphite Composites, CFRP

(

1

)

S1

Iron-Based, Heat-Resistant Alloys

160-260 HB; 25-48 HRC; 500-1200 N/mm^2 UTS

(

1

)

S2

Cobalt-Based, Heat-Resistant Alloys

250-450 HB; 25-48 HRC; 1000-1450 N/mm^2 UTS

(

1

)

S3

Nickel-Based, Heat Resistant Alloys

160-450 HB; <48 HRC; 600-1700 N/mm^2 UTS

(

1

)

S4

Titanium and Titanium Alloys

300-400 HB; 33-43 HRC; 900-1600 N/mm^2 UTS

(

1

)
No filters matching ""
Change the visible columns with any of the parameters listed below. A maximum of 7 columns can be displayed.
Displaying
1-

1
of
1
results
SAP Material Number
ISO Catalog Number
ANSI Catalog Number
Grade
Insert Size
Hand of Tool
[W] Cutting Width
[W] Cutting Width
[RL] Corner Radius
[RL] Corner Radius
2953286
123567340
123567340
TN6030
4
N
4.1000
.1614
0.3000
.0118

List price:

$16.89

/each.
Replacement
This item is not available
Replacement Product
This item may be available through a distributor
Grades
THM

Metal duro sin recubrir. Equilibrio extraordinariamente bueno de dureza, resistencia al desgaste, estabilidad del filo y tenacidad. Mecanizado ligero y medio. Para fundición, todos los metales no ferrosos y materiales no metálicos. Útil en condiciones desfavorables.

TN6030

Metal duro recubierto con nanocapa de PVD-TiAlN. Mecanizado medio y pesado para aceros y fundiciones nodulares. Recomendada en velocidades de corte medias cuando sean necesarias buenas propiedades de dureza.

TN7525

La calidad de metal duro recubierto TN7525 tiene una capa de MT-CVD-TiN-TiCN-Al203. Diseñada para el mecanizado ligero
y medio de todos los aceros y fundiciones nodulares.


WM35CT

Metal duro recubierto. MT-CVD/CVD — TiN-TiCN-Al2O3-ZrCN. Buen equilibrio entre tenacidad y resistencia
al desgaste. Para operaciones de medianas a desbaste con cortes muy interrumpidos y poco interrumpidos.